Cleaning facade with cleaning equipment Tornado ACS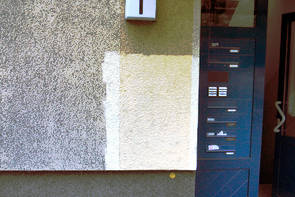 Are you looking for a simple but effective possibility for cleaning facade?
Then try out cleaning equipment Tornado ACS, which completely removes all pollutants from your facade with its new environmentally friendly cleaning technique.
Due to the innovative vacuum blast method cleaning facade and wall can be done residue-free from efflorescences, algae, rust, graffiti an many more.


Contaminates such as graffiti, saltpeter, rust, algae, moss, lime and paint can be easily cleaned from your facade with cleaning machine Tornado ACS.
Cleaning facade gently without affecting the subsurface, the cleaning machine Tornado ACS provides the optimal solution for a thorough facade cleaning.
This cleaning machine even removes the most obstinate pollutants on all mineral surfaces, without high pressure, water and chemicals. No matter if your facade consists of brick, natural stone, concrete, travertine or EIFS system, the cleaning machine Tornado ACS makes it look like new again without a great effort.

Also, with the vacuum blasting method your facade is not just cleaned thoroughly but also very environment friendly. The cleaning technique Tornado ACS works in a closed cycle, so that no substances can penetrate to the outside. Only when the filter is cleaned, the disposal of residue takes place.

Convince yourself of this revolutionary cleaning technology and its many application possibilities.

Find more information at Tornado ACS products and supplies.