Cleaning sandstone floors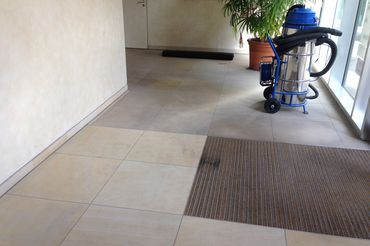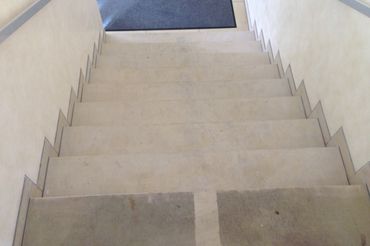 Cleaning sandstone floors is very difficult, especially when the floors have to be cleaned during public traffic and the set up of barriers is not possible. With the vacuum blast method of systeco this job is easy done.
To retain a sandstone´s full beauty, it must be cleaned from time to time. This is generally nothing problematic when to observe some rules.
Through the use of a pressure washer the microscopic structure of sandstone is changing, whereby the sandstone floor pollutes faster in the future than before. Even before, cleaning solvents are not recommended, since the impact on the environment is too strong and the user is facing disposal problems.
In the photos you can see cleaned sandstone floor in Hamburg and Berlin at the Potsdamer Platz. In both cases, the cleaning had to be carried out during operation. The result is impressive.
Surface gentle cleaning
of a sandstone floor
With the cleaning machine Tornado ACS of systeco the surface of sandstone floors is neither damaged nor do residues enter the environment.

The unique vacuum blast method cleans every sandstone floor without high pressure, water or chemicals. Through the vacuum blast process, impurities are removed layer by layer, without damaging the surface.