Trade partner for systeco
The Tornado ACS cleaning equipment is distributed by our trade partner around the world. There are many application areas for the minimal-abrasive technology. Our trade partner are optimally familiar with the Tornado ACS cleaning technology. They can help with any questions you might have, and give advice how to use the machine advantageously.
We also gladly present the Tornado ACS cleaning machine personally to any object of your choice to you, so you can assure yourself of the machine's advantages and also see the differences to pressure washers and dry ice blasting.
Facade cleaning, graffiti removal, floor cleaning, grout cleaning, tile cleaning, and saltpeter removal are just few of the application possibilities of the revolutionary green technology.
Find the right trade partner:
Trade partner for the Baltic States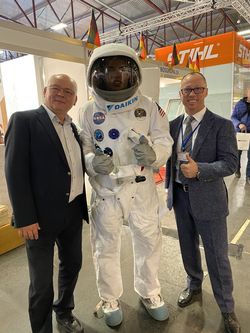 Our trade partner for the Baltic States has been working for us since 2019.
During a trade fair in Riga in March 2020, our vacuum blasting technology was presented for the first time in Latvia

antigraffiti.lv
contact person: Mr. Gedzs
trade partner for Latvia, Estonia and Lithuania
LV - 1039 Riga
Dzelzavas 35/1-54
Tel.: + 371 2555 5969
info@antigraffiti.lv
www.antigraffiti.lv
---
Trade partner for Hong Kong and Macau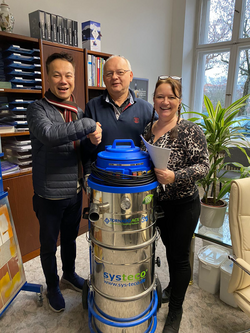 In Hong Kong, we have been able to gain a very committed trading partner since 2019. Mr. Chan has already been able to conduct several trade fairs in Hong Kong and Macau.
The interest in the eco-friendly vacuum blasting system is also very high in Asia. The interest for an environmentally pollution-free cleaning is constantly growing.
Score Building Materials Ltd.
contact person: Mr. Chan
trade partner for China,
Hong Kong and Macau
CN - Kwun Tong, Hong Kong
25/F., Futura Plaza, 111-113 How Ming Street
Tel.: + 852 2590 9898
info@score.co.hk
www.tornado-acs.com.hk
---
Trade partner Saudi Arabia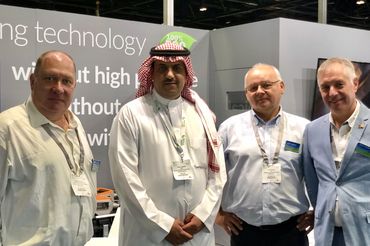 At the Middle East Cleaning Technology Week from 15 - 17 October 2019 in Dubai, systeco GmbH successfully presented the Tornado ACS in the Arabian region. The demand for environmentally friendly cleaning systems was very high. During the fair we were able to win a new trading partner for Saudi Arabia. The company Sinmply Build Contracting will represent us in Saudi Arabia in the future. We are looking forward to an intensive and good cooperation.

Simply Build Constructing
Tariq I.Aljaffal
Alkaria Plazza - Aliya Street
Riyadh, Saudi Arabia
Tel. +39 05 21 64 21 03
Fax : +39 05 21 64 14 45
tariq@sbuild.sa
www.sbuild.sa
---
For many years now company Fevi is our trade partner for Italy. Mr. Viglioli is a committed dealer for the Tornado ACS cleaning machine.
FEVI SRL
Via Koch, 49/A-51
I-43100 Pilastrello-PR
Tel. +39 05 21 64 21 03
Fax : +39 05 21 64 14 45
info@fevi.it
www.fevi.it/-ita/home.php
---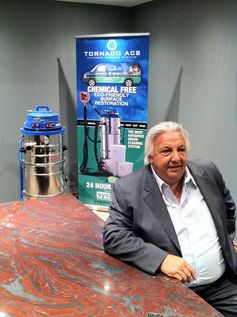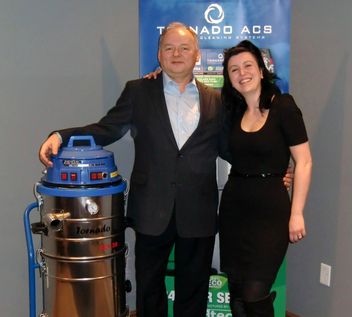 Since 2010 the tornado ACS Canada Cooperation took over the distribution of the Tornado ACS cleaning machine in Canada and the United States. Together we fought for the permission for the Tornado ACS on the Canadian and American market and we succeeded.
Tornado ACS Canada Corperation
contact person: Mr. Montemarano
CA- L4L 7Z9 Woodbridge Ontario
457 Jevlan Drive Suite 8
Tel.: +1 / 905 850 71 88
info@tornadoacs.com
www.tornadoacs.com
---
Would you like to be a trade partner ?
Just get in contact with us and inform us about your current activities or your company.
The further qualified expansion of our existing dealer net is an important cornerstone of our company policy. Therefore we are looking for reliable and committed partners, who would like to try to establish the marketing of the systeco cleaning technology in their region.
We will shortly examine, if your structure fits our company and meets the requirements of our systeco cleaning technology.
In the following section you will find some examples of trade partners, who work with us successfully.