International trade shows
systeco GmbH was over the past years directly represented at important cleaning exhibitions with the patented vacuum blasting Tornado ACS. At the CMS in Berlin, the ISSA in Amsterdam and the ISSA in Las Vegas we introduced the latest developments of our cleaning machine. Also on other exhibitions and fairs we are being represented by many of our trade partners.
The minimal abrasive low pressure technique, which cleans surfaces gentle and harm free, keeps inspiring the visitors. Working without high pressure, water and chemicals sounds for most of them not doable. But after seeing how well our cleaning machine can remove paint and pollutions off surfaces, they cannot hide their astonishment.
In order to maximize the level of awareness of our cleaning devices, we will keep participating at all important exhibitions and fairs.
---
After the exhausting time of the Corona pandemic we were again present at the ISSA 2022 in Amsterdam with our cleaning machine Tornado ACS. The environmental issues are again in the focus of the public and there is an increasing interest in environmentally friendly cleaning machines, which work climate and Co2 - neutral.
Since January we have extended the range of our vacuum blasting machines by several items. The most important innovation is the SPEED adapter, with which the area output of our system can be increased up to 3 times. The interest in our SPEED adapter was very high.
The systeco team was again present at the CMS 2019 in Berlin and again it was a great success. Environmentally friendly cleaning technology is more and more in demand. This time we were able to demonstrate the Tornado ACS both indoors and outdoors. Cleaning WITH NO PRESSURE, NO WATER, NO CHEMICALS with our unique patented. Vacuum blasting process has inspired national and international interested parties.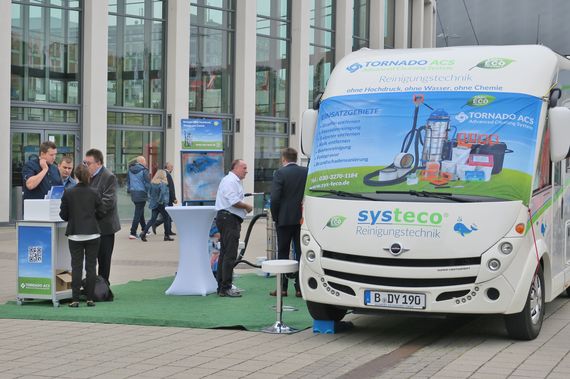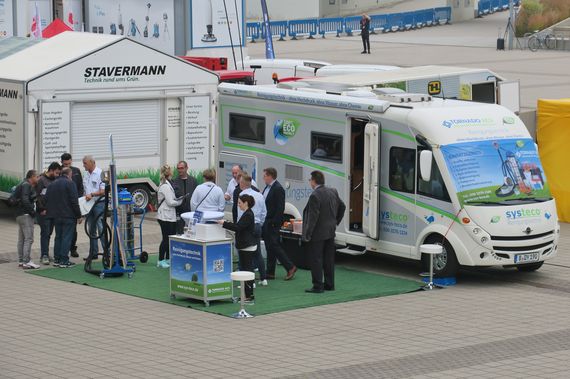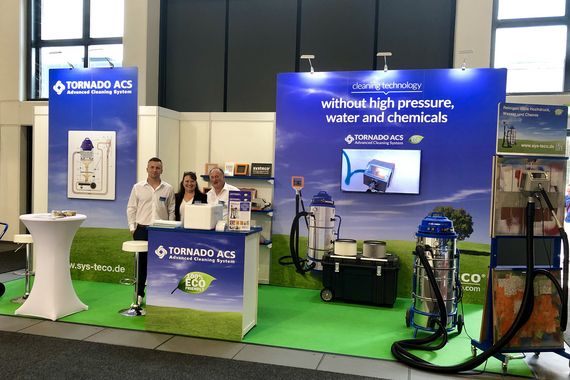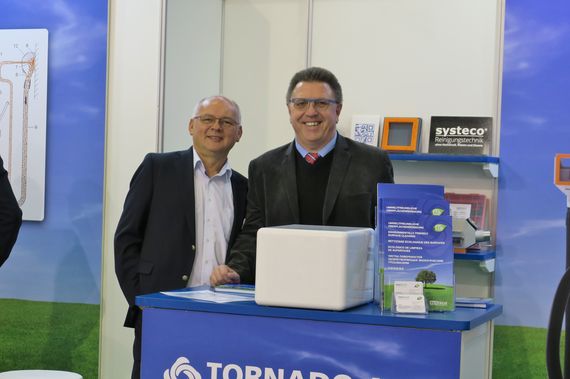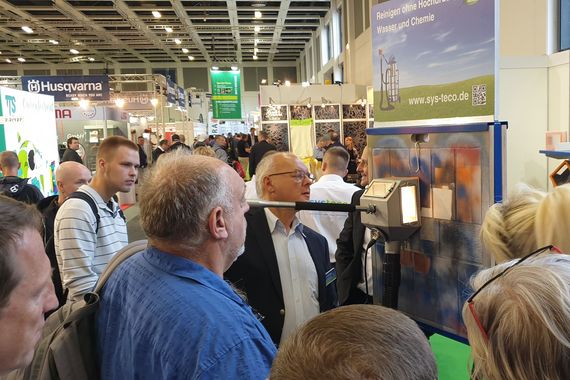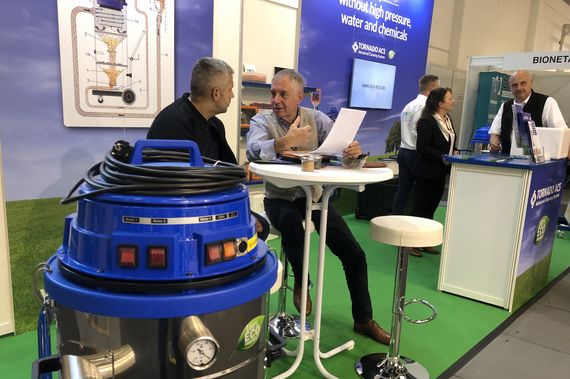 CMS Cleaning Trade Show Berlin 2017
The cleaning trade show CMS 2015 was very successful again. Our customers were informed about the latest innovations and the versatile application possibilities of the vacuum blast technology. This time we were represented with 7 employees at the booth and that way we could offer more extensive and intensive information.
The CMS 2019 was a complete success for us.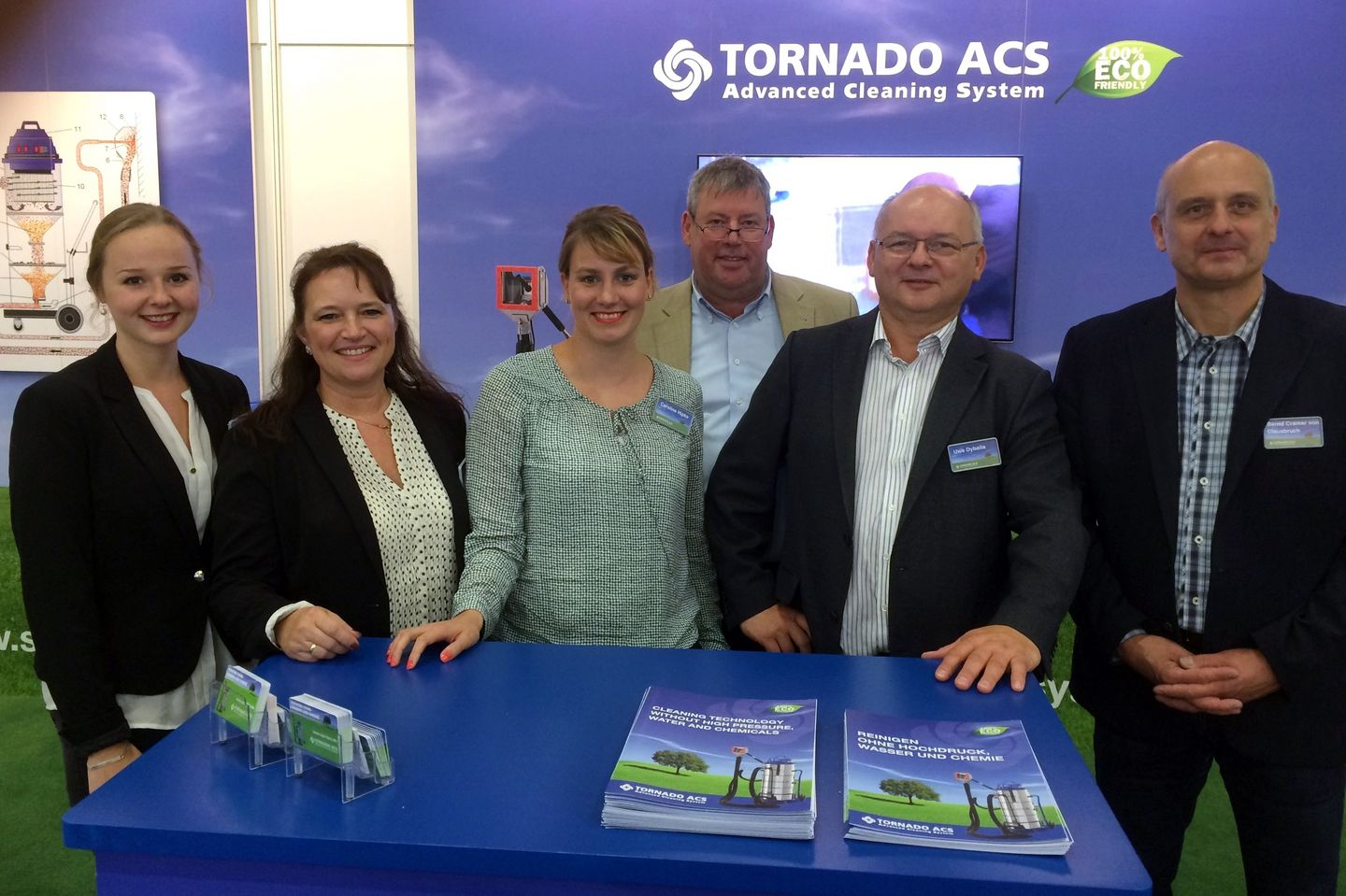 The interest in our vacuum blast method is increasing. Due to the ever-growing environmental regulations also the demand is growing for eco friendly vacuum blast methods. Thanks to our many loyal customers for visiting our booth and wishing you continued success.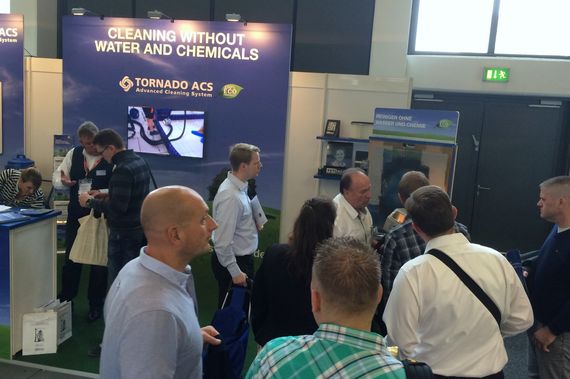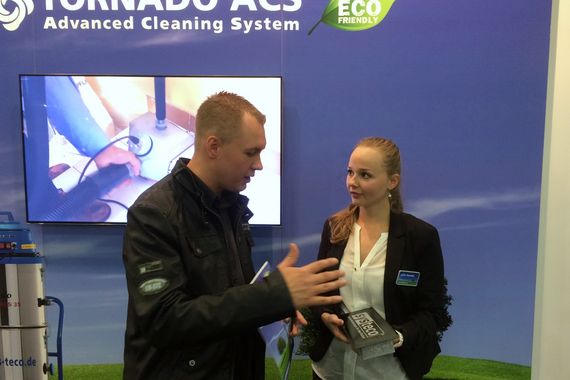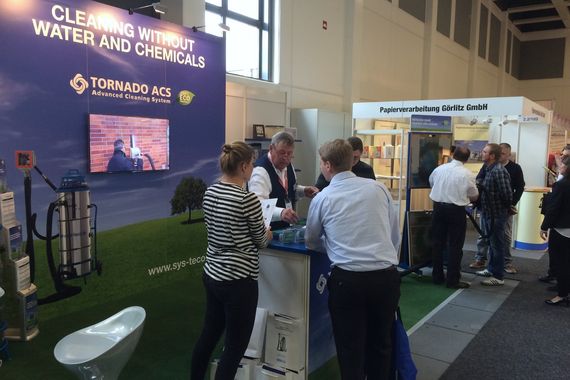 ---
ISSA 2018 Amsterdam
Every 2 years the ISSA takes in Amsterdam place. April 2018 were we as ususal represented at the cleaning exhibition. The systeco-Team was working with many employees and dealers, to introduce our environmentally friendly cleaning equipment for graffiti removal, facade cleaning, grout cleaning, stair case cleaning, fire restoration and lacquer removal.
The patented cleaning machine Tornado ACS works with a unique and revolutionary vacuum blasting system without using high pressure, water and chemicals. The cleaning equipment is easy to handle and for everyone applicable, which makes it the perfect alternative to pressure washers and dry ice blasting systems.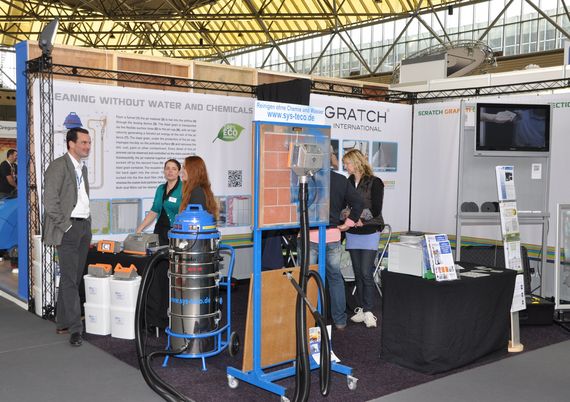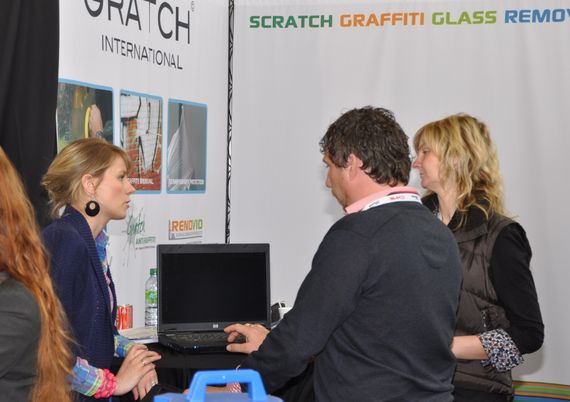 ---
CMS cleaning exhibition 2015 in Berlin
The CMS 2015 was again a complete success. For the first time we could introduce our vacuum blasting
at our new fair booth. We were able to establish new contacts and extend our dealer network.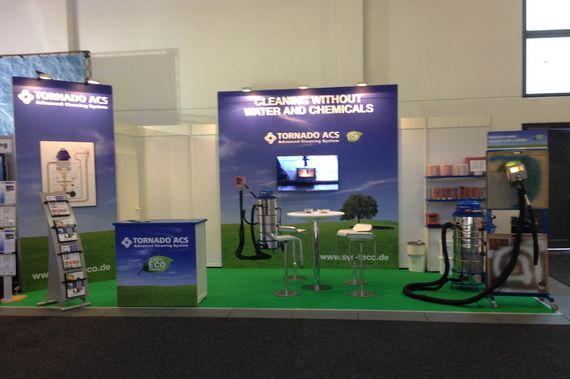 ---
ISSA in Las Vegas
Our trade partner for the United States and Canada was 2011 for the first time at the ISSA at Las Vegas introducing our vacuum blasting system and showing how it operates without pressure, water and chemicals.
At this major exhibition we could recieve a great interest in our eco friendly cleaning machine. How it works in a closed circulation and its gentleness on surfaces seemed to convince the fair visitors.