Comparison of the Tornado ACS systems by systeco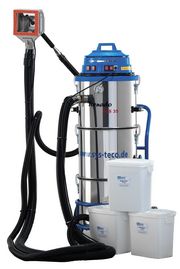 In order to help you compare the Tornado ACS systems, we have put together a tabular overview. In this overview you can see exactly which parts are available in the individual systems and in what quantity.
The basic system is only sold as a second system if a Tornado system is already available or if several systems are purchased at the same time.
The minimal-abrasive technology enables environmentally friendly and climate-neutral cleaning, paint stripping and decoating of surfaces. The vacuum blasting process is used for cleaning in a permanent cycle.
Special industrial safety measures are not necessary. The environmentally friendly cleaning technology is the perfect alternative to classic sandblasting. Other processes are not comparable with this unique cleaning method.
---
Comparison Tornado ACS cleaning systems
| | Top | Premium | Elite | Elite Plus |
| --- | --- | --- | --- | --- |
| operating instructions | 1 | 1 | 1 | 1 |
| granulate table (seales) | 1 | 1 | 1 | 1 |
| photobook | 1 | 1 | 1 | 1 |
| hose package (4,5 m) | 1 | 1 | 1 | 1 |
| jet hood standard 170 x 170 | 1 | 1 | 1 | 1 |
| jet hood small 170 x 100 | | | 1 | 1 |
| jet hood large 230 x 260 | | | | 1 |
| jet lance standard | 1 | 2 | 2 | 2 |
| jet lance short | | 1 | 1 | 1 |
| jet lance extra long | | | | 1 |
| speed adapter | | | | |
| filter cleaning help | 1 | 1 | 1 | 1 |
| transport box Top | 1 | | | |
| transport box Premium | | 1 | | |
| transport box Elite | | | 1 | 1 |
| additional filter 806 (standard) | 1 | 2 | 3 | 3 |
| HEPA filter H14 | | | | 1 |
| adapter inside corner | 1 | 1 | 1 | 1 |
| adapter outside corner | 1 | 1 | 1 | 1 |
| adapter cross corner | | 1 | 1 | 1 |
| interior rounding | | | 1 | 1 |
| external rounding | | | 1 | 1 |
| sealing plate | 1 | 1 | 1 | 1 |
| baffle plate | | 1 | 1 | 1 |
| footseal-set (4 pieces) | 1 | 2 | 3 | 3 |
| glass-panes (15 pieces) | 1 | 2 | 3 | 3 |
| service-set | | 1 | 1 | 1 |
| extension cable | | 1 | 1 | 1 |
| warranty time (years) | 2 | 4 | 6 | 8 |
| granulate (container of 8 Liter) | 6 | 8 | 10 | 14 |
| of which NS 450 nutshell | 1 | 1 | 1 | 1 |
| of which SG 150 jet glass | 2 | 2 | 4 | 5 |
| of which SG 300 jet glass | 1 | 2 | 2 | 3 |
| of which AS 180 aluminumsilicate | 1 | 1 | 1 | 2 |
| of which AS 250 aluminumsilicate | 1 | 2 | 2 | 3 |