green cleaning technology - vacuum blasting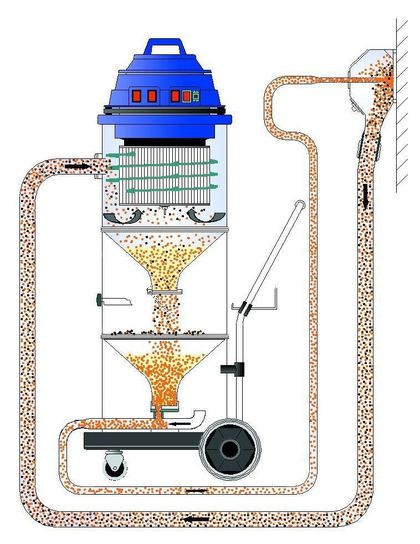 The green cleaning technology Tornado ACS of systeco allows an absolutely surface gentle and eco-friendly cleaning of all building surfaces. Wit the help of the unique vacuum blast method, impurities such as algae- and moss grown, efflorescence, dust- and fumes residues and even graffiti can completely cleaned.
The revolutionary green cleaning technology
The extreme cleaning effect is achieved in the dry vacuum blasting by the removal of the dirt layer similar to a grinding process. Thereto the systeco green cleaning technology neither water nor detergents are required. All debris remain in the closed cycle of the machine and are caught in a filter system. So you not only protect the surface, but also the environment.
systeco - the future green cleaning technology
All you need for cleaning with green cleaning technology Tornado ACS, is a normal power conncetion and the appropriate blast media. The choice for the right granulate depends on the type of surface which has to be cleaned.

For brick, natural stone and concrete the most fitting granules are jet glass and asilit, whereas on more sensitive surfaces, such as polished granite or glazed tile, a special granulate made of plastic, is used. An overview of all different granules, you can find here: blast media (granulate).

Convince yourself of the benefits of systeco green cleaning technology, you can not only clean house facades and terrace floors, but also remove varnish, create photo engravings and restore fire damages.
---
---