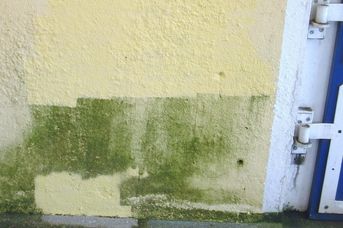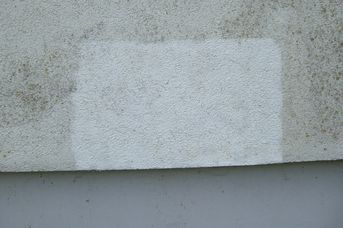 Algae removal on facades
Not only environmental influences by fumes or dust, but also organic organisms such as algae can harm a facade over the years. Especially well, algae thrives on facades that are close to water, wetlands, farmland and trees and bushes.
But also local climatic conditions play an important role. There is evidence that the infestation rate of algae is significantly higher on building facades in countrysides than in cities. However, you can say, a good maintenance extends the life of every facade, no matter what type it is or where it is located.
Algae removal on facades, for perfect results, you just need the cleaning machine Tornado ACS, blast media (granulate) and a power connection. With the revolutionary cleaning technique by systeco, algae can be removed fast and trouble-free from facades of all kind. The innovative vacuum blast method looses algae, moss and fungi on all mineral sub-surfaces without damaging the surface. The surface must be dry before working on it.

Algae removal on facades

With the environmentally conscious Systeco cleaning technology, you do not need to make great efforts. You don't need to do more than to put the jet hood over the algae and move the jet lance evenly over the area. The cleaning machine now losses the algae from the surface and captures the residues in its closed cycle. The result is a completely clean facade!

Try it yourself, with cleaning machine Tornado ACS
and your facade can already be removed from algae today.