Removing paint from fibreglass boat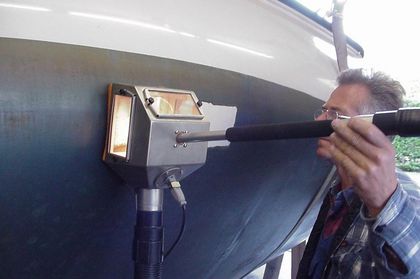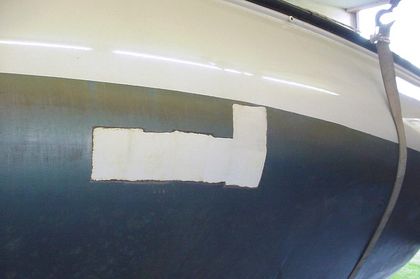 Removing paint from fibreglass boat with a cleaning machine of systeco means that neither grinding nor chemicals is used. We of systeco have developed a cleaning technology where removing paint from fibreglass boat is done without great physical effort and absolutely surface gentle.
Vacuum blasting removes paint from fibreglass boats without environmental burden
Thanks to the innovative and eco-friendly vacuum blast method, the paint is removed layer by layer from the boat hull by using granulate. Thereby the ablation residues remain in the closed cycle and can be easily disposed of after the paint removal. No substances can penetrate the environment. During the operation, you don't have to wear any kind of protection.
Removing paint from fibreglass boat the easiest way
Removing paint from fibreglass boats is very easy with systeco's cleaning technology. The cleaning machine has to be equipped with the appropriate granulate and is ready to start. Thereto, the jet hood is placed onto the fibreglass boat hull and is moved evenly over the surface. The process of paint removal can be observed via glass panes.

Systeco's cleaning machines are ideally suited for boat houses and are ideal for yacht clubs since they are low in noise and easy to transport. The cleaning technology of systeco even works completely without water and solvents, it can be used anywhere without a problem.

If you want to find out more about removing paint from fibreglass boat, just contact one of our trade partner.

---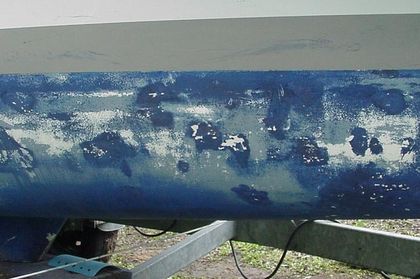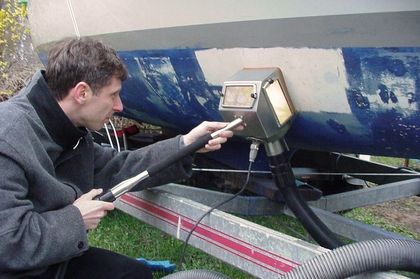 Fibreglass boat cleaning
For fibreglass boat cleaning, you can forget about the tiring grinding and the chemical solvents. Just grab on to the vacuum blast equipment of systeco, since with systeco's cleaning technology, paint is removed from fibreglass boats without great physical effort. In addition to that, systeco's cleaning technology is especially eco-friendly and can be used anywhere in free nature.
Compared to conventional methods to remove paint from a fibreglass boat, the vacuum blast technology lets no substances enter the environment, so you don't even need protective clothing during work. The innovative vacuum blast method works in a closed cycle, in which all ablation residues are collected in a filter system of the machine. The filter is cleaned simple and fast after the working process.
Surface gentle fibreglass boat cleaning with
systeco cleaning technology
Even when there are several paint layers on a fibreglass boat hull, that is no problem for systeco's cleaning machines. The paint is removed thoroughly layer by layer without damaging the hull's surface. Try it yourself, the cleaning equipment is easy to operate, light and compact and with a low noise level.
Systeco, your reliable partner in the field of green cleaning technology
---
Vacuum blasting of systeco, a complete new world of cleaning
The cleaning machines Tornado ACS of systeco are not only suited for surface gentle and eco-friendly paint removal from fibreglass boats, but also offer a lot more application possibilities. With these cleaning machines you can also clean all soiling from house facades, stone floors, tiled walls and walls with coat of paint.

Further information about the various application possibilities of systeco you can find on our website, or directly at one of systecos trade partner.