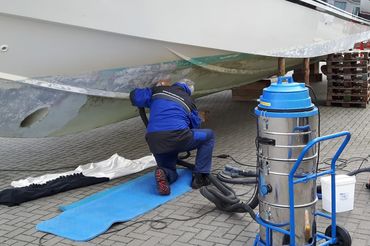 The underwater hull is the part of the boat which is underneath the waterline, so it is an area that is constantly exposed to the given water influences.
These include the forming of shells and algae, causing additional stress to the underwater hull. Particularly, shells affect the lubricity of the boat, which causes a loss of speed and increases the fuel consumption.

To prevent this there are commercially available special protective boot paints, but this alone does not solve the problem. The underwater hull should also be subject to periodic mechanical cleaning, for which the boat has to
be taken out of the water.
Cleaning the underwater hull
without polluting the environment
Typical impurities, concerning the underwater hull, are algae and moss growth but also oil and tar. These things cannot be just wiped off with water and a sponge. For this reason, high-pressure jets, chemical cleaners and even hydrochloric acid are frequently used for cleaning the underwater hull without being aware of the consequences for the environment.

We have developed a cleaning machine, which can clean the underwater hull completely environmentally friendly. Systeco's cleaning equipment works totally without water and chemicals and is therefore not only eco-friendly but also very gentle to that materials surface of the underwater hull.
Cleaning an underwater hull with systeco's vacuum blast method.
With a systeco cleaning machine, the underwater hull can be cleaned without major physical effort, because the operation is very easy. Also, special safety precautions are not necessary, neither safety gloves are worn at work. Further, advantages of systeco's cleaning machines are, that they have a low noise level, are light and compact and can be used everywhere.

Further information about the innovative systeco cleaning technology and its versatile application possibilities you can find here on our website or just contact one of our systeco trade partner.
---