Efflorescence removal on brick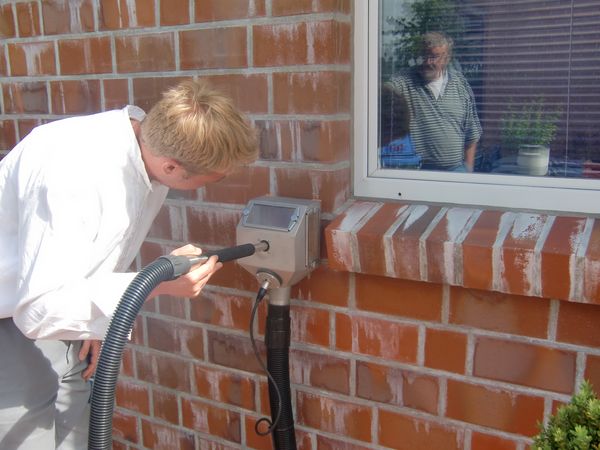 With negative instead of high pressure –
the perfect alternative to a pressure washer
Efflorescence on brick are often found in the north of Germany. Efflorescence point out that the clinker was already polluted with saltpeter during its production. Due to moisture penetration salts and lime do bloom, thus ugly white spots appear on the stone.
For efflorescence removal on brick, chemicals and high pressure were used so far, which resulted in only modest and short-termed success.
But there is another way - without high pressure, water and chemicals. The patented Tornado ACS cleaning machine operates according to a unique future-oriented vacuum blast method with special granules. The minimally-abrasive technology enables an eco-friendly cleaning of surfaces. With the vacuum blasting method, the cleaning takes place in a permanent circulation. The granule can be reused up to 100 times.
With the cleaning equipment, Tornado ACS of systeco saltpeter and lime deposits are removed very well. The efflorescence is removed from the masonry by means of granules, without water and chemicals, and is not pushed back into the masonry like it would with a pressure washer.
Efflorescence removal on brick is done with no residue. Brick as well as grouts are perfectly clean after the treatment with cleaning machine Tornado ACS.
The entire efflorescence removal remains in a closed circulation and is only disposed with the cleaning of the filter. The masonry is freed from saltpeter. With a high pressure cleaner, efflorescence is pushed back into the masonry and appears again after a short period of time. Lime deposits can also be removed well with the minimal-abrasive cleaning technology, even if the deposits are very thick.
The work can be done by anyone. Special knowledge is not required. The closed circuit of the cleaning equipment enables dust free work without protective clothing and also in public business.
Systeco stands for effective and environmentally friendly cleaning procedures. With our patented vacuum blasting method, we have developed future oriented cleaning machines. The company guarantees a solid quality of its long-lasting products. On our website www.systeco.com, comprehensive information about the Systeco cleaning technology and the various possibilities of the Tornado ACS cleaning machine can be found.