House facade cleaning with cleaning machine Tornado ACS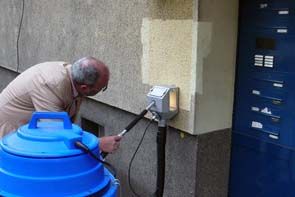 Are you looking for an effective and eco friendly house facade cleaning? The cleaning machine Tornado ACS meets all requirements of a modern cleaning technique and will be reliable partner for facade cleaning for you.

House facades look like new again with cleaning machine Tornado ACS.

House facade cleaning has never been that easy. With the innovative vacuum blast method of cleaning machine Tornado ACS, the most persistant contaminates such as algae, moss, rust or efflorescence can be removed from house facades gentle and residue-free. If EIFS-Facades or natural stone, with the help of systeco´s cleaning technology, your house facade will look like new again.

Especially well the cleaning technology Tornado ACS is suited for the residue-free removal of graffiti from house facades made of brick, natural stone, concrete, plaster, coat of paint, tile and plastic.

House facade cleaning, simple and safe

Without great physical effort and special safety measures, house facade cleaning with cleaning machine Tornado ACS goes trouble-free and without damaging it. The cleaning process can be done safely on facades located at a street with public business. The jet hood which adheres to the facade due to the vacuum, makes work with the cleaning equipment Tornado ACS completely safe.

The cleaning technology Tornado ACS makes an eco friendly cleaning possible not only on house facade cleaning, but also on floors, stairs, tiles and many more.

Take your time in checking our website.