Brick cleaning - Tornado ACS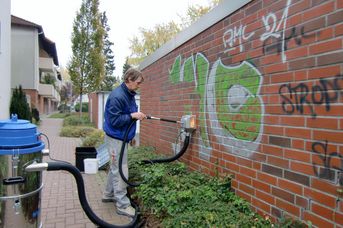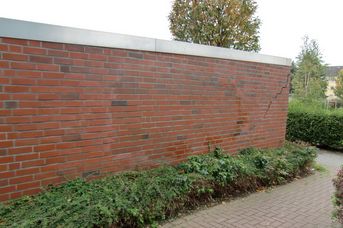 Are you looking for a reliable cleaning technique for graffiti removal off brick ? Then you have just found the right cleaning equipment Tornado ACS.
The ultimate graffiti removal, which cleans any brick facade residue-free. This convincing cleaning power is going to thrill you! To this you don´t even need to strain yourself, since the handling is very easy. The cleaning machine is useable in no time and can be used in- and outdoors without great preparation.

This has never been there before ... with cleaning machine Tornado ACS brick cleaning is done without water, high pressure or chemical means. Due to the innovative vacuum blast method, brick cleaning from facade is gentle to the environment. Neither stones nor grouts are damaged by the use of graffiti remover Tornado ACS.
Brick cleaning without polluting the environment!
When working with the cleaning technology Tornado ACS no environmental pollution is caused by worn substances or contaminated water. The vacuum blast method works, other than as a pressure washer, in a closed cycle, so nothing can penetrate to the outside. Only after the operation, the residues are disposed of from the filter.

With cleaning equipment Tornado ACS you can even clean a brick facade on a road open to the public, without setting up barriers. The application is absolutely harmless and can be easily carried out by persons without special training.
If you want to find out more about brick cleaning with cleaning technology Tornado ACS, have a look at our website.