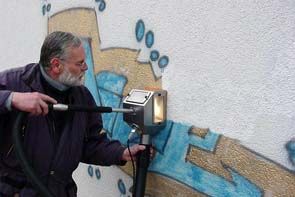 Eco-friendly graffiti removal
Eco-friendly graffiti removal is done with the Tornado ACS trouble-free from house facades. The cleaning equipment removes graffiti on any kind of surface, with the help of the revolutionary vacuum blasting method.
House- and stone walls are completely freed of graffiti with the future oriented cleaning technique Tornado ACS without high pressure, water and polluting chemicals. Sprayed walls shine like new in no time.
Ultimate Graffiti Removal without chemicals

The cleaning machine Tornado ACS can be used anywhere and is easy to operate. With this unique graffiti remover, dry ice blasting, high pressure cleaner and chemical solutions belong to the past. Eco-friendly graffiti removal on clinker, plaster, concrete, paint, tiles, naturals stone, plastic and listed facades, without damaging the surface.

Eco-friendly graffiti removal with vacuum blast method

While working with the professional graffiti remover Tornado ACS neither protective clothes nor special safety measures are required. That is why, when working on building facades that are on busy roads, the cleaning machine can be operated with confidence. The negative pressure technology works in a closed cycle, in which the waste disposal is omitted, and therefore the environment is not polluted.

Take your time in checking our website and find out about the many various possibilities if using the Tornado ACS cleaning technology. With cleaning equipment Tornao ACS not only graffities are removed from facades and walls eco-friendly, also any other kind of pollution can be removed residue-free.