Graffiti removal from brick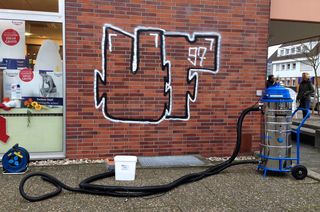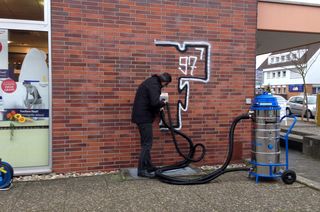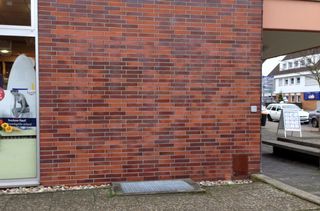 You want to remove graffiti from brick and are looking for a reliable cleaning technology?
Then you have found the right cleaning machine Tornado ACS !
To remove graffiti from brick has never been easier. On brick of any kind, the cleaning machine Tornado ACS works reliable and environmentally friendly.
Neither stone nor grout are damaged while removing graffiti thanks to the closed cycle, which keeps the paint particle from the wall in a filter, and the different kinds of granules that are adaptable to every surface, in order to assure the minimal abrasive process.

For the graffiti removal from brick with the cleaning equipment Tornado ACS no barriers, no safety clothes and no costly disposal are necessary.
The cleaning equipment Tornado ACS is therefore the ideal alternative to a pressure washer and dry ice blasting.
When removing graffiti from brick, a surface capacity of 4-5 qm/h can be reached. Here is used mainly fine blast media (asilit AS 90 or jet glass SG 150).

All you need to be able to work is a plug (230V/16A) and you can already start with the graffiti removal from brick. The cleaning power is so great that it convinces everyone. And you don't even have to strain yourself, since the handling is so very easy.

Graffiti removal from brick, without damaging the environment!
While working with the cleaning technology Tornado ACS, the environment is not being polluted by used substances or contaminated water.
The vacuum blast method works in a closed cycle which keeps everything away from the environment, in contrast to a pressure washer.
If you want to find out more about graffiti removal from brick, have a look at our website.