Removing graffiti from plaster
With green cleaning equipment Tornado ACS you are removing graffiti from plaster facades of any kind eco friendly and credible. When removing graffiti from plaster it is not being harmed. The Tornado ACS cleaning machine is therefore the perfect alternative to pressure washers and dry ice blasting.
While you are removing graffiti from plaster with the Tornado ACS you can reach a face capacity of 3 - 4 qm/h. On lighter facades jet glass SG 150, on darker facades asilit AS 90 is being used. Rough granulates are not to recommend, since they could lead to damages on the plaster.
When removing graffiti from plaster with cleaning solution Tornado ACS there is no need of barriers, protective clothing and extraordinary disposal of waste. The Tornado ACS is the ideal cleaning machine when it comes to graffiti removal.
The application of chemicals on EIFS facades are generally not recommended, since chemical cleaner can interfuse the plaster and thus damage sensitive heat insulation.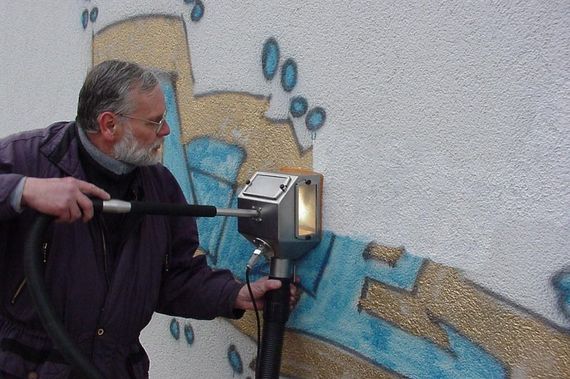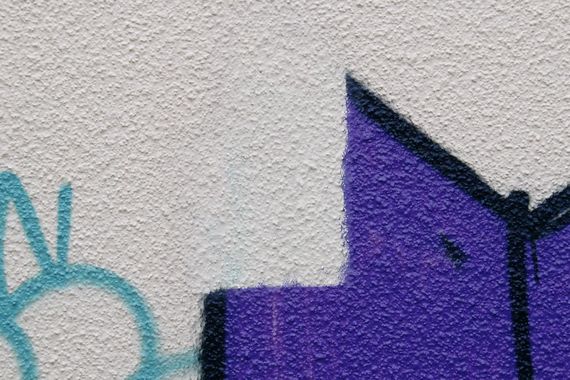 Removing graffiti from rough cast
The Tornado ACS cleaning equipment can be used well on old plaster facades. The small amount ouf time you need for in- and deinstallation of the cleaning machine makes it especially very handy. Training the janitor of a housing association. After a short training anybody can operate the easy-to-use cleaning machine.

The entire area was cleaned from graffiti with cleaning machine Tornado ACS. Due to the closed cycle of the vacuum blast method special safety measures are not required.
The janitor of an elementary school can remove graffiti with the cleaning machine Tornado ACS all by himself. In this case normal contaminants are removed within graffiti removal. Even old plaster appears like new after cleaning it.