Subsequent slip resistance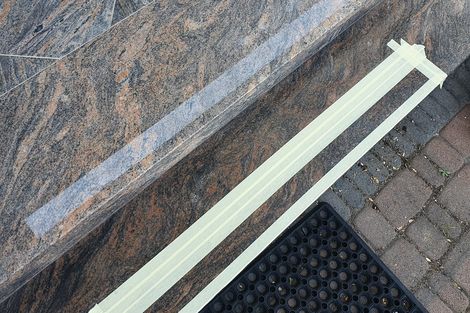 To achieve a subsequent slip resistance on floor tiles and granite stairs, neither the environment is burdened with chemical solvents nor ugly anti slip-strips have to be glued on, because floorings are made non-slip very simple with the vacuum blast machine Tornado ACS. The vacuum blast machine works without high pressure, water and chemicals and changes all mineral floorings to a safe and slip resistant base coat.

It is possible, with the developed vacuum blast method of systeco, where the subsequent slip resistance is achieved by blast media (granulate). Thereby the granulate speeds up to 400 km/h due to the created negative pressure and is brought to the surface by a jet lance. Because of the high impinging speed of the granulate, a clean and even slip resistance develops and makes the floor safeley walkable even with moisture. The roughness and depth of theDie Rauhigkeit und Tiefe der slip resistance is achieved by the length of the blasting process.
For all areas with increased slipping
The vacuum blast machines Tornado ACS are used on all mineral surfaces with increased slipping, no matter if in inside or outside areas. Especially vulnerable areas are tiled floors in entrance ares, canteens, operating and service walks, sales rooms, treatment rooms in doctors' offices, stations in hospitals and laboratories. Also in swimming pools, spa facilities and sanitation slip resistance is necessary in many places.
No special knowledge is required for the achievement of a subsequent slip resistance with the Tornado ACS and no safety precautions have to be taken. The vacuum blast method is a self-contained cycle, where all residues are collected in a filter system. Thus, a particularly environmentally friendly operation is ensured.
We care for a safe and clean environment
systeco machines have many more application possibilities besides the subsequent slip resistance. The Tornado ACS vacuum blast machines suit not only for thorough and eco-friendly graffiti removal but also on all other pollutants from house facades, floorings and interior walls. More information you find on our website or directly at one of our systeco trade partner.