Cleaning sandstone floor on Potsdamer Platz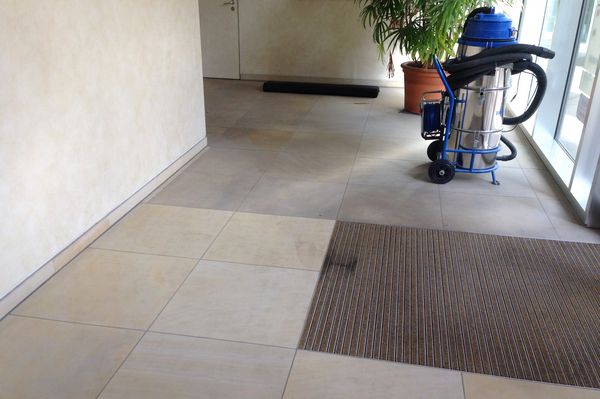 Sandstone floor cleaning during operation with public, is that possible? This challenge is not easy to solve. The only method for that is using the vacuum blast method of Systeco since it has a closed circuit. Half of the sandstone floor was cleaned with cleaning machine Tornado ACS and sealed without putting barriers.
---
In order to keep a sandstone floor in its entire beauty, it has to be cleaned once in a while. In general it is nothing problematic, if you follow the rules. By using a high pressure cleaner, the microscopic structure of sandstone changes, whereby the sandstone floor pollutes even faster in the future then before. Also aggressive detergents shouldn´t be used, since they are polluting the environment and are often difficult to dispose.
Cleaning sandstone floor surface gently
Cleaning sandstone floor with cleaning equipment TornadoACS won´t damage it and no residue can penetrate our environment. Cleaning sandstone floor without high pressure, water or chemicals with the unique vacuum blast method. Due to the vacuum blast method impurities are removed layer by layer, without damaging the surface.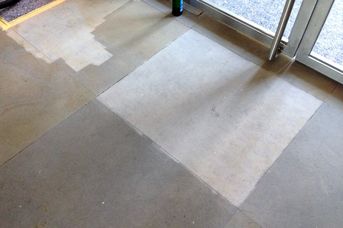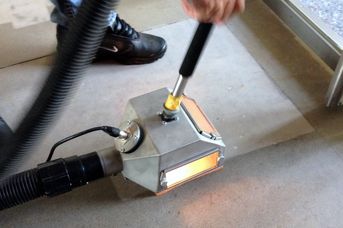 Cleaning sandstone floor in Hamburg
The cleaning machine Tornado ACS is easy to operate and works completely eco friendly. The cleaning machine is easy to operate and works completely eco firendly. Different from high pressure cleaning, cleaning technology Tornado ACS works in a closed cycle, from which no removed solutes can penetrate to the outside. Only after the working process is finished, the disposal takes place.

Just try it our yourself, you don´t need prior knowledge and special safety measures are not required. The green cleaning machine can be used anywhere without great preparations and can be also used for the cleaning of all sandstone floors.

The Tornado ACS is the perfect alternative to a pressure washer.
---