Travertine is a wonderful natural stone, which is difficult to clean due to its large pores. Unfortunately, this stone pollutes very strongly during the years and becomes then quite unsightly. This applies to both front walls and floors.
For cleaning travertine floors and wall coverings, wet grinding was used so far. A method in which the travertine stone is grinned in several steps and is then impregnated. Thereto, spacious barriers are necessary. Stairwells are usually not accessible for the time of cleaning, and during the facade cleaning needs to be ensured, that pedestrians will not come to harm.
For contamination caused by graffiti, very often chemical means are used for cleaning, what causes that the dissolved paint penetrates even deeper into the stone.
---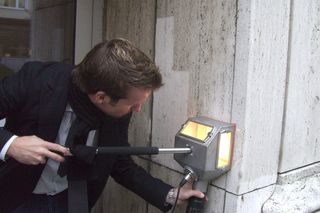 There is another way –
without pressure, water and chemicals.
The patented cleaning machine, Tornado ACS, works with a unique future-oriented vacuum blasting method with special granulate. The minimal-abrasive technology enables an eco-friendly cleaning of surfaces. With the vacuum blast method, travertine can be easily cleaned. A barrier around the work area is not necessary.
Cleaning travertine slabs on the floor, especially in hallway and staircase areas, is possible during public business, since the cleaning takes place in a closed cycle. The used granulate can be reused up to 100 times. The entire removal remains in the closed cycle of the system, and is disposed only when the filter is cleaned.
The work can be done by anyone. Special knowledge is not required. The closed cycle of the cleaning equipment enables a dust free work process without protective clothing.
Systeco stands for effective and environmentally friendly cleaning procedures. With our patented vacuum blasting method, we have developed future oriented cleaning machines. The company guarantees a solid quality of its long-lasting products. Find comprehensive information about systeco´s cleaning technology and the various possibilities of the Tornado ACS cleaning machine on our website www.sys-teco.com
---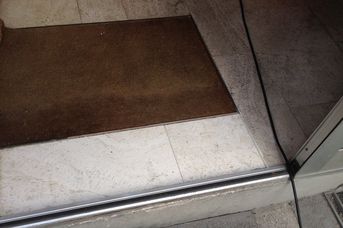 Travertine floor cleaner Tornado ACS
Even in ancient times the advantages of travertine in buildings were appreciated and this is still the case today. During that time travertine was mainly used as a building material for all churches and city walls, today it is mainly used for decorative purposes. Among other things, travertine slabs are very popular for laying floors. The warm yellowish brown color of the limestone and the grain are an ornament for each house.
Travertine floor cleaner, but how ?
To keep a travertine floor beautiful over time, it must be properly cared for. But careful, about 90 percent of all surface damages on travertine floors are based on false and intensive cleaning. While light soiling can easily be removed with water, soap and a brush, stronger soiling needs a more effective cleaning method. Trying to clean a travertine floor with acidic products, would be a fatal mistake.
The travertine floor cleaner Tornado ACS of systeco cleans especially surface gentle
The Systeco cleaning machines do not only preserve the travertine surface, but are also quiet and easy to use. Thanks to the advanced cleaning technology Tornado ACS, any travertine floor can be completely cleaned, no matter if inside or outside. Even weathered travertine is clean again. Try it yourself, you can get the travertine floor cleaning equipment Tornado ACS from our trade partners.
Removing graffiti from travertine
Even graffiti and other scratch work can be removed well from travertine with the vacuum blast method. The eco-friendly cleaning machines are ideally suited for travertine cleaning.