Sandstone floor cleaning with Tornado ACS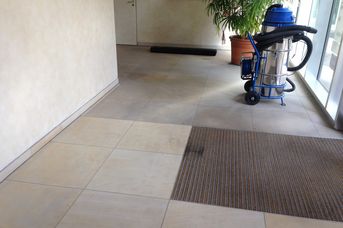 You would like to clean a sandstone floor but are not sure of the best way to do it? For smaller stains you are normally using warm water, soap and a brush, but with persistant contaminants on sandstone, that won´t be enough. In addition to that comes the hard physical work, when larger areas are manually cleaned.

High pressure changes
the sandstone floor
To avoid this, of course you have the opportunity to use a pressure washer for the sandstone floor cleaning, but here you should consider the following: This cleaning method alters the microscopic structure of sandstone, with the result that your sandstone probably pollutes faster in the future than before.
Sandstone floor cleaning the smart way
That won´t happen to you with the cleaning machines Tornado ACS. The systeco cleaning technology works absolutely surface gentle and even on large areas you don´t have to strain yourself. If it comes to cleaning a sandstone floor, there is nothing better then using the cleaning equipment Tornado ACS, try it yourself!

systeco ­cleaning machines
Convince yourself of the extreme cleaning power and user-friendliness of our cleaning technology. Not only for your sandstone floor cleaning, but also for the environment. Systeco cleaning machines are working absolutely eco-friendly, neither do they need water nor chemical detergents!

All you need is a normal power connection and you can start cleaning the sandstone floor. Find out more about sandstone floor cleaning with systeco on our website.