On the church grounds in Hildesheim an old stone floor should be cleaned. The dirt deposits were already many years old and couldn't be removed with conventional means anymore. Behind a porch, a sample was applied. The result delighted all participants. Even the deepest pore of the old natural stone was clean again. It shows, the Tornado ACS is the perfect cleaning machine to clean stone floors.
Vacuum blast method for stone floors
The Tornado ACS can clean many kinds of soiling on floors. Limestone, rust and other deposits are no problem. Tile-, concrete-, and stone floors look like new again after the floor cleaning with the cleaning machine Tornado ACS. A further advantage is, that the grouts are also cleaned gently during the tile cleaning. The closed system enables the use of cleaning machine Tornado ACS during public business without barriers and safety measures. The operation is easy to learn, so trained staff is not required.
Advanced cleaning technology
You receive the patented cleaning technology exclusively at systeco. The advanced cleaning machine works based on a unique and revolutionary vacuum blast method without pressure, water and chemicals. The minimally-abrasive technology enables eco-friendly cleaning, varnish removal and layer removal from surfaces.
The indoor use, as well as in endangered rooms, is perfectly possible with this innovative cleaning technology and special safety measures are not required.

You can find on our website all application possibilities for the vacuum blast method. This technology is very versatile.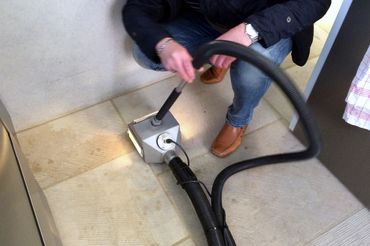 ---