Efflorescence removal from brick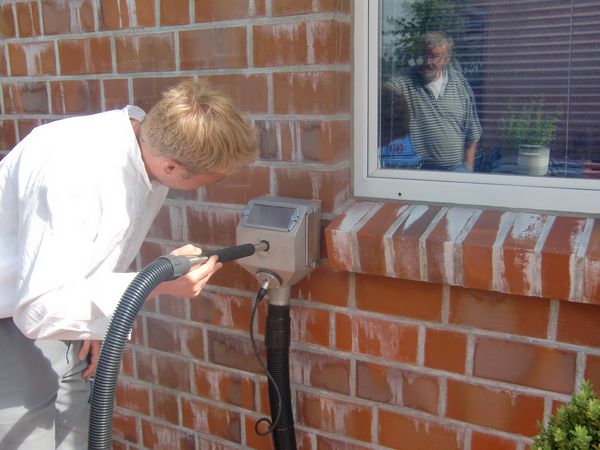 Primarily efflorescence on building surfaces arises wherever water can enter a building. But not only moisture in the masonry, but also animal excrements can be the cause of a so-called wall saltpetre.
With efflorescence due to moisture it is necessary to find the source of it and to take the appropriate building measures. In many cases it´s simply a bad isolated facade.

Efflorescence removal from brick facade

A thorough efflorescence removal from brick should be performed, to have the wall or facade look neat and tidy again. However, common methods for efflorescence removal, such as pressure washers, water and cheamicals are usually not that surface gentle and also the environmental friendliness should be questioned in many cases.

systeco the future green cleaning technology

For gentle and environmentally friendly efflorescence removal from brick , the cleaning machine Tornado ACS of systeco is the optimal solution. The simple handling and the variety of applications, make the cleaning equipment an ideal partner for facade cleaning. More and more house owners and cleaning companies trust the cleaning technique of systeco for saltpetre cleaning.

Work like a pro! The cleaning equipment is not only perfectly suited for efflorescence removal from brick but also for graffiti removal and all environmental contaminations.
Convince yourself of the extreme cleaning power of the revolutionary vacuum blast method of systeco´s cleaning machine.