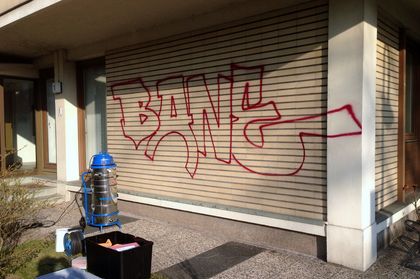 Historic building restoration
with cleaning technology Tornado ACS
Historic building restoration without high pressure, water and chemicals and without damaging the surface material. Monuments and listed building facades reflect the history of centuries. Unfortunately, most of these magnificent buildings look unsightly over time.
Once the glance is hidden behind a layer of fumes, grime, dust, saltpeter and bird's dirt, it is time to remove all of this with a gentle surface cleaning technique.
Historic building restoration
gentle to surface
The cleaning machine Tornado ACS offers all advantages on historic building restoration. The unique vacuum blasting method guarantees an especially gentle removing of impurities on all types of monuments and listed facades. The cleaning technique Tornado ACS allows a thorough and residue-free historic building restoration without great effort and polluting the environment.
Simply place the jet hood onto the polluted area and move the jet lance gently over the surface. With this process, which can be done problem-free and without special safety measures, the dirt can be removed layer by layer. Not only impurities caused by environmental factors can be removed with cleaning equipment Tornado ACS without damaging the substance of the facade, but also graffities and much more.
The cleaning machine Tornado ACS is not only suited for historic building restoration, but also for cleaning interior walls, floor cleaning, stair cleaning, tile cleaning, fire damage restoration and boat cleaning.