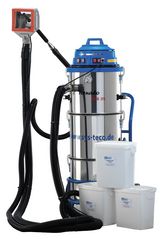 For ivy removal from brick a pressure washer won't succeed. If you are unlucky, the pressure may burst the grouts. With a sandblaster you shouldn't work either. The danger of damaging the surface is too high. What remains is the manual work with a wire brush, which also works only partially. Especially old ivy, which blooms and carries fruits, looks beautiful on house walls. No doubt about that. But when removing ivy, it leaves nasty marks.
On this object in Ellerbek the vacuum blast method of systeco has been used for the first time for ivy removal from brick, and it showed an outstanding result. The company GFS Staack from Hitzhusen has already some knowledge when it comes to successful ivy removal from brick.
The fine roots of ivy adhere firmly to the brick, but are completely removed with the vacuum blast method. The closed cycle enables safe and comfortable work.
---
Cleaning machine Tornado ACS in use
Within 2 days the entire area was freed from ivy. Afterwards, the brick looks like new again. Barriers are not necessary and the disposal of the removed ivy follows comfortably after the cleaning process.

If you want to find out more about the vacuum blast method and the various application possibilities of the cleaning machines, then take a look at our website.