Restoration after fire damage
In the context of rehabilitation work after a fire, the soot removal plays an important role. Conventional cleaning techniques, in this case, could do more harm than good. High pressure lamps distribute the soot and dirt in the area and can even damage the finish on sensitive surfaces. Chemical cleaners should be used for the restoration after fire damage with caution, as they often represent a significant burden on the environment.
Eco-friendly restoration after fire damage with systeco's cleaning machines
With cleaning equipment Tornado ACS of systeco all of that can be avoided, because they work totally without high pressure, water and chemicals. Thanks to the patented vacuum blast method, even the most persistent soot layers can be removed residue-free and surface gentle. The ablation is collected in the filter system of the machine and can be recycled in an environmentally friendly manner after the cleaning process.
Restoration after fire damage without great physical effort
The cleaning machines Tornado ACS are light, compact and easy to handle. All you need is a normal power connection and the cleaning machine is ready for use in no time for the restoration after fire damage. Now you only have to place the jet hood on the polluted area and move the jet lance above the sooted surface. Through vision panels in the jet hood, the process of how the soot layer is separated and immediately sucked in, can be observed.
If you want to find out more about the systeco cleaning technology and its various application possibilities, take a look at our website, and you will see it's worth it.
---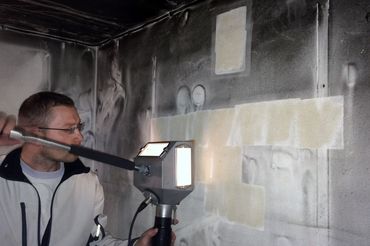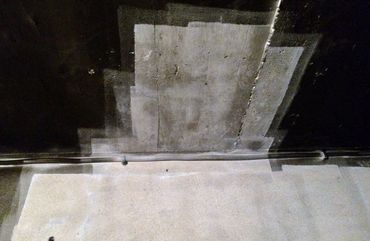 Professionals know that fire damage remediation is not an easy job and can turn into a costly issue. But not with cleaning machines Tornado ACS of systeco, since the systeco cleaning technology works with the innovative vacuum blast method, which is easy to use for fire damage remediation.
Fire damage remediation
without water and cleaning detergents
Our innovative cleaning technology is not only easy to handle, but also operates completely without water and cleaning detergents and is therefore absolutely eco-friendly. All you need for fire damage remediation is the appropriate blast media and a normal power connection.
The cleaning process is carried out by blast media, which is accelerated to a speed of 400 km/h by means of negative pressure. Due to the high impact speed, all traces of soot and other residues are completely removed from brick, concrete, plaster, stone and tiles. The surface remains completely undamaged!
The perfect solution
to remediate fire damage
With cleaning equipment Tornado ACS you are ready to work anywhere, they are light and compact, can be used both in- and outside and operate even at minus temperatures. No special safety measures are required during the work. All ablation residues remain in the closed cycle of the machine.
If you want to find out more about fire damage remediation with cleaning machines of systeco, just contact one of our trade partner.
Systeco, the green cleaning technology "made in Germany",
has innovative solutions for facade cleaning, boat cleaning, graffiti removal, tile cleaning and natural stone cleaning.