Graffiti removal price - removal at low cost with systeco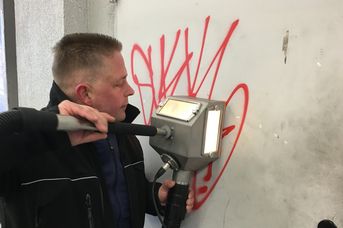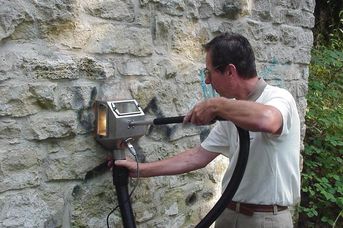 Graffiti removal price: The cost of graffiti removal can vary, depending on the size of the polluted area, the type of surface and the method used. A graffiti sprayed facade, is not only an optical offense. In most cases, the not to underestimated cost of graffiti removal have to be paid by the building owner. Facade cleaning companies, that work efficient and offer a low-cost service, are clearly in advantage.
The graffiti removal price depends on the size of the polluted area, the surface on which paint was on. Very fast, significant cost can occure, from 30 to 70 € per m2. Because of the high environmental standards, the cost for graffiti removal are exploding, since all residues must be collected and later on be disposed of in an environmentally friendly way. Failing to comply with these provisions can cause severe penalties. In many countries, the use of chemical cleaning agents is generally not allowed. That is why there is a great demand of an eco-friendly cleaning machine like the Tornado ACS from systeco. The direct comparison shows, that the cleaning machines Tornado ACS are about an average of 30 % cheaper, than conventional cleaning systems. The savings lie mainly in the preparation and process.
Tornado ACS cleaning machine
keeps the cost of graffiti removal low
and the environment clean!
With the cleaning machines, Tornado ACS, contractors can offer their customers not only a cost-effective offer for a graffiti removal, but that also a process protecting the environment. Because the systeco cleaning technology has been developed so, that it works perfectly without high pressure, water and chemicals. The cleaning machines Tornado ACS work in a closed cycle with the vacuum blast method, so that no ablation residue can penetrate to the outside. All materials are collected in the dust filter of the machine and can be disposed of environmentally friendly after the working process.
Graffiti removal was never that easy!
There is no initial training for employees required, since systeco´s cleaning machines are simple to operate and therefore make graffiti removal very easy. Working with the Tornado ACS does not require protective clothing of any kind. Barriers when working on busy streets are not required either. That all lowers the cost of graffiti removal considerably.
If you want to find out more about the graffiti removal with systeco´s cleaning machines, have a look at our website or get in touch with one of our trade partner.