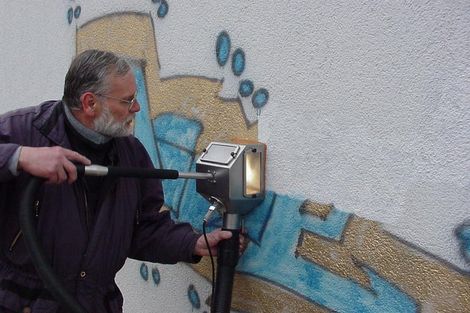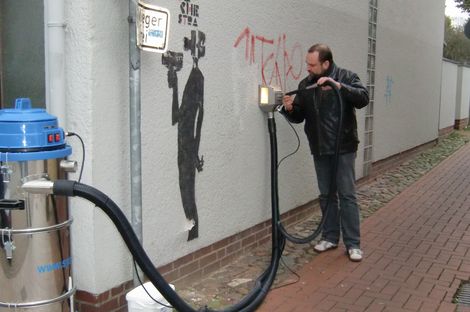 EIFS cleaning eco-friendly and simple
with cleaning equipment Tornado ACS
Unfortunately, you find them everywhere. Graffities of all sizes on facades, monuments, bridges and other buildings. It is mostly beautiful objects which are used as a base. Especially popular are EIFS facades, which are painted white in most cases.
There are many different methods for EIFS cleaning, depending on the surface and size. In any case, graffities must be removed quickly, otherwise there will be more in no time.
There is a saying
The earlier graffiti is removed
the easier it comes off (especially on the south side)
We have developed cleaning machines, which removes graffiti on all mineral surfaces without leaving residues and without polluting the environment. The cleaning technique is particularly well suited for EIFS facades, since neither the delicate plaster layer nor the underlying insulation is damaged. Cleaning can be done in public as barriers are not necessary.
Without high pressure, without chemicals
and without water
The patented vacuum blast method allows working clean and environmentally friendly. The cleaning unit is built in a few minutes and ready for use. The costly disposal of soiled cleaning materials is omitted, as it cleans without high pressure, water and chemicals. The cleaning machine Tornado ACS is easy to use for everyone.
Application on all mineral surfaces
EIFS cleaning with cleaning technology Tornado ACS works for graffiti on brick, natural stone, concrete, paint, tile, plastic and many other surfaces easily and quickly. Therefore, EIFS cleaning our cleaning machine is the ideal alternative to a high-pressure cleaner and dry ice blasting. The minimally abrasive procedure protects the surface to be worked on. Due to the closed circuit, no protective clothing is required.
---