Negative instead of High Pressure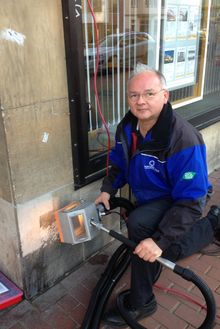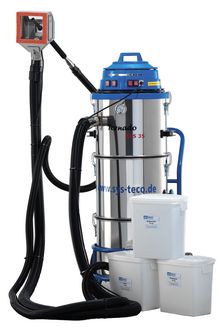 Pressure washers, sandblasting equipment and dry ice blasting are widely known. All those procedures have one major common disadvantage. The dissolved dirt and sometimes the blasting medium as well won´t be collected.
In the meantime, cleaning companies are required to collect these residues and dispose them properly, which is a considerable amount of time and money.There is another way - without High Pressure, Water and Chemicals.
The patented cleaning machine Tornado ACS works according to a unique revolutionary vacuum blasting process with negative instead of high pressure and special granules. The cleaning equipment is easy to use and applicable to everyone. Thus, the cleaning machine Tornado ACS is the ideal alternative to high pressure cleaners, sand blasting machines and dry ice blasting.
The minimally abrasive technology enables an environmentally friendly cleaning, paint removal and stripping of surfaces. With the vacuum blasting process it is cleaned in a permanent cycle. The granules can be reused again (up to 100 times). The indoor use and in particularly hazardous areas are no problem with this eco-friendly cleaning technology.
Special health and safety measures are not required. The cleaning equipment Tornado ACS is often used in graffiti removal and facade cleaning. However, efflorescence removal, limestone removal and fire damage restoration are important areas of application. The closed cycle system allows work in public, and in closed rooms. The easy-to-use cleaner is therefore not only used by the classic cleaning service providers, but also of many municipalities, janitorial services, and highway maintenance.
Systeco stands for effective and environmentally friendly cleaning methods. With our patented vacuum blasting method that works with negative instead of high pressure, we have developed future-oriented cleaning machines. The company guarantees for its solid quality long-lasting products. Since 2005, we are the experts in difficult and stubborn surface contaminants.
The compact cleaning machines are used worldwide in a wide range of graffiti removal on fire damage restoration to tile cleaning. We develop the method constantly to find even better solutions for an environmentally friendly cleaning. On our website you can read in detail about the systeco cleaning technology and the many possibilities of use.