With the cleaning machine, Tornado ACS, exterior wall cleaning is easily done. Without great effort, even the most stubborn impurities like graffiti can be completely removed with the patented cleaning technology of systeco.
Systeco's cleaning machines for graffiti removal on exterior wall
Not only the surface of the exterior house wall is spared, but also the environment, because the cleaning equipment Tornado ACS works in a closed cycle. Different from a pressure washer, no residues can penetrate the outside.
Exterior wall cleaning has never been easier than with systeco's cleaning machines!
Thanks to the vacuum blast method, graffities can be removed from any house wall without high pressure, water and chemical means. Try it yourself, graffiti removal was never that easy.
Systeco's cleaning machines are light and compact and can be used at any place with a normal power connection and even work at minus temperatures. Prior knowledge or special safety measures are not necessary.
Tornado ACS cleaning machines are not only perfect for graffiti removal from house walls, but they are also suited perfectly for tile- and floor cleaning, for monument care and for rust removal as well as fire damage restoration.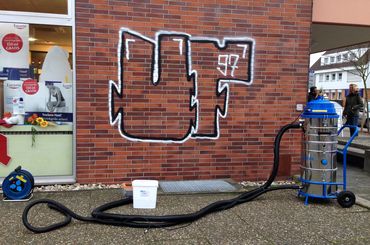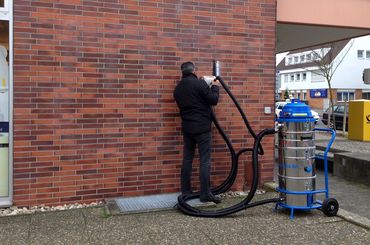 ---
Graffiti removal on all exterior walls
Not only can be graffiti be removed easily from brick, but also from EIFS facades, also from roughcast and natural stone graffiti can be removed well. Thanks to the vacuum blast method, the surface is treated especially gentle.