Innovative cleaning equipment of systeco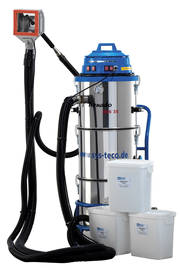 The innovative cleaning equipment Tornado ACS is the ultimate solution when it comes to cleaning of polluted facades, walls or interior walls. Without prior knowledge and special safety measures, the innovative cleaning equipment Tornado ACS removes graffiti, saltpeter, rust, moss, algae growth and paint from all mineralic surfaces. This revolutionary vacuum blast method protects not only the ground but also the environment.
Innovative cleaning equipment Tornado ACS
The innovative cleaning equipment which operates on the principle of the vacuum blast method, differs from the common sandblasting, dry ice blasting or high pressure washer. The minimally-abrasive vacuum blasting removes even the most persistant impurities problem-free and without polluting the environment. All removed particles remain in the closed cycle and will be only disposed after the working process is finished.
Facades and walls look like new again
Whether a facade of graffiti or efflorescence must be cleaned, or interior walls after a fire, does not matter, the cleaning equipment Tornado ACS allows any surface to look like new again. Without much effort the innovative cleaning ewuipment can process 3 to 6 square meters per hour and at a minimum noise level.
When used in closed areas no respirators and when used for façade cleaning on roads open to the public, no barriers are necessary. It removes thoroughly all impurities without leaving any residue on brick, concrete, plaster, granite, tile and much more.

All advantages and application possibilities of the innovative cleaning equipment Tornado ACS you find on our website. Below you can see some examples.
---