Cleaning non slip tiles with Tornado ACS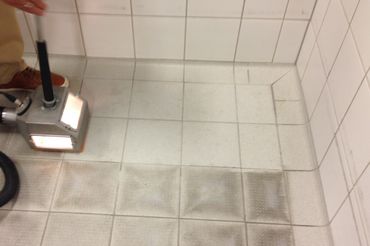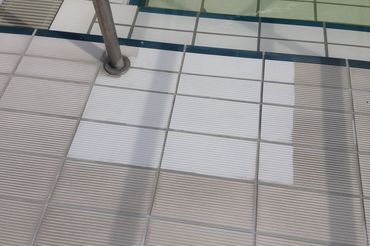 Due to their rough and non-slip surface, non slip tiles pollute very quickly and should be subject to periodic thorough treatments. Especially in canteen kitchens, spas, showers in gymnasiums or swimming pools, with special hygienical standards, it is important to thoroughly clean non slip tiles. We, of systeco have developed an advanced cleaning technology.
Vacuum instead of pressure washing, for cleaning non slip tiles is nothing better that cleaning equipment Tornado ACS of systeco. The innovative cleaning technology works completely without high pressure, water and detergents. Neither waste water develops, nor are debris spreaded into the environment. Thanks to the patented vacuum blast method, a cleaning of non slip tiles can be done without interrupting the public business and without polluting the environment. Cleaning non slip tiles easy done with systeco.
Cleaning non slip tiles, easy done with Tornado ACS!

In order to work with cleaning machine Tornado ACS only the appropriate blast media and a normal power conncetion is necessary. Systeco´s cleaning technology is not only optimal for cleaning non slip tiles, but also suits well for facade cleaning, staircase restoration an monumental care. On top of it photo engravings can be created with the vauum blast method. Further information you will find on our website.
Non slip tile cleaning without business interruption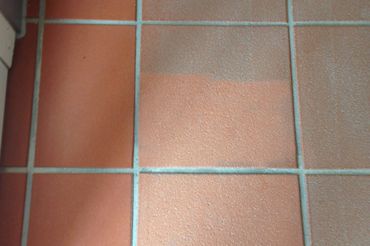 Non slip tile cleaning without high pressure, water and chemicals
In industrial kitchens, swimming pools and spas a continuous operation has to be guaranteed. The non slip tile cleaning is a special challenge when it comes to cleaning. An effective basic cleaning is difficult to accomplish during running operation.
Often all conventional means fail, for non slip tile of any kind tend to pollute very quickly, because of their rough and non slip surface.
Despite daily cleaning, tiles appear dirty and unsightly. Visitors in swimming pools conclude very fast to bad hygiene, which is not true in most of the cases.
There is another way - without high pressure, without water and without chemicals
With systeco cleaning technology all impurities can be removed fast and eco-friendly. Operating the cleaning machine can be done during running business and is therefore the perfect alternative to pressure washers. Even rust stains can be completely removed in a few minutes. The innovative vacuum blast method, also called negative pressure blasting, neither damages the tiles surface nor the grouts. The cleaning machine can be used inside as well as outside. The cleaning technology works completely without watere and chemical detergents. All it needs, is a power source of 230 V.
Non-slip tile cleaning during public business is no problem at all, since the cleaning is done in a closed cycle. The granulate can be re-used up to 100 times. The entire debris remains in the closed cycle of the system and is disposed only when the filter is cleaned. Special skills are not required. The closed cycle enables a dust-free work without protective clothes.