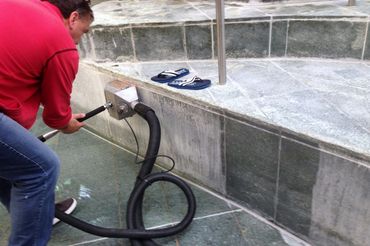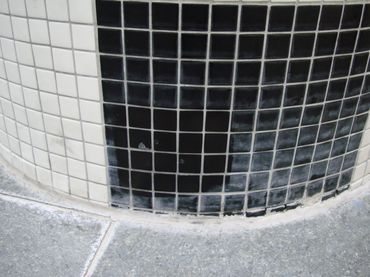 Professional limestone cleaning
Your facade cleaning business is located in an area with very chalky water, thus that you want to offer professional
limestone cleaning for swimming pools and thermal spas?

Then have a look at systeco's innovative cleaning technology. We from systeco have developed a cleaning machine,
which removes calcifications from all types of tile like sandstone, granite or marble, simply and fast.

Professional limestone cleaning on all surfaces
No matter from which mineral material the limestone has to be cleaned, the surface cannot never be damaged
during the cleaning process with the cleaning machines Tornado ACS. Even glazed tile look like they were new.
The reason for this is that the vacuum blast method of this cleaning technology works especially gentle on every
surface compared to other, more conventional, methods. The patented cleaning technology,"Made in Germany",
enables the professional limestone cleaning without leaving traces on the surface and without using chemicals.
How professional limestone cleaning works
All you need for professional limestone cleaning with a systeco cleaning machine is blast media (granulate) and
normal power supply. The blast media is accelerated to a speed of 400 km / h by means of vacuum and passes
through a jet lance that aims at the calcified surface. Due to the high impact speed, the limestone is removed
layer by layer and disappears into the filter system of the machine.
More advantages of systeco's cleaning machines
Tornado ACS cleaning machines do not generate smells or great noise. Operations in public areas can take place
without delimiting the work space, which would normally be the case with other cleaning methods. The daily life is
thus, not interrupted at all. Plus, systeco's cleaning equipment is easy to transport, can be used in- and outdoors
and is simple in its operation.

If you want to find out more about the professional limestone cleaning, of systecos cleaning technology, just contact one of our trade partner near you.
---