Removing graffiti from natural stone
Removing graffiti from natural stone eco-friendly works perfectly with the unique graffiti removal machine Tornado ACS of systeco. The cleaning machine removes graffiti on natural stone using the new revolutionary vacuum blast method without damaging the stone. House walls and other walls are completely free of graffiti with the advanced cleaning technology Tornado ACS without high pressure, water and environmental polluting chemicals. Sprayed walls appear clean again.
You can work on natural stone of various kinds with the cleaning machine Tornado ACS very reliable and eco-friendly. There are very hard stones, such as granite on which you can use all granules, and there are very soft stones, such as sandstone or marble, on which you can only work with fine blasting material. Even on sensitive stone, the surface won't be damaged with the right application. The Tornado ACS cleaning machine is the ideal alternative to pressure washers and dry ice blasting for removing graffiti from natural stone.
For graffiti removal on natural stone, you reach a surface achievement of 2-3 qm / h. On light natural stone jet glass SG 150 is used and on dark natural stone asilit AS 180.
The use of chemicals on natural stone is generally not recommended. Chemical cleaners dissolve the paint, for it penetrates deeper into the pores. Especially in the case of sandstone, the paint penetrates deep into the material. Shadows will remain, which are difficult to remove.
---
Ultimate graffiti removal without chemicals
The Tornado ACS cleaning machine can be used everywhere and is easy to operate. With the unique graffiti remover, dry ice blasting, high-pressure cleaners and chemical solutions belong to the past. Effective graffiti removal on brick, plaster, concrete, paint, tiles, natural stone, plastic and monument-protected facades, without damaging the subsoil is now possible.
Removing graffiti from natural stone with the eco-friendly vacuum blast technology
When working with the Tornado ACS graffiti removal machine, neither protective clothing nor special work safety measures are required. The cleaning machine can also be used safely on house facades, which are located on busy streets. The vacuum blast technology works in a closed circuit, which eliminates the need to dispose of polluted cleaning agents and thus does not pollute the environment. Take a look at our website, here you can find out about the versatile application of the Tornado ACS cleaning technology. With the cleaning machine Tornado ACS not only graffiti is removed eco-friendly and trouble-free from facades and walls, but also any kind of pollution can be completely removed.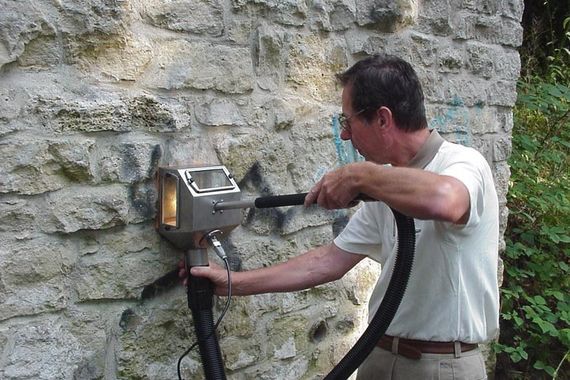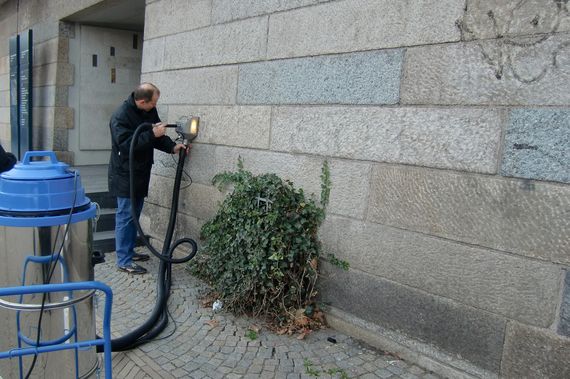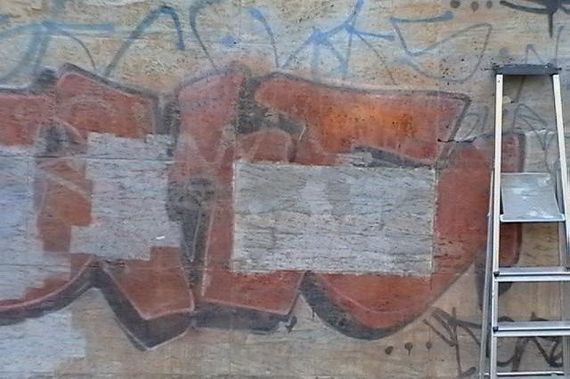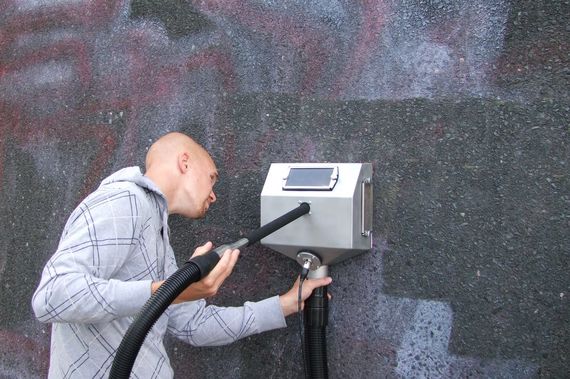 ---