Eco-friendly sandblasting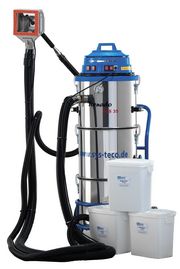 Eco-friendly sandblasting in a new dimension. Sand is no longer used, but abrasive blasting media such as jet glass and asilit, which can be reused very often in the circuit. The extreme cleaning effect is achieved with dry vacuum blasting by removing the dirt layer, similar to a grinding process. For this, systeco cleaning technology does not require water or detergents. All removals remain in the closed cycle of the machine and are collected in a filter system. That way not only the surface is protected but also the environment.
vacuum blasting - advanced eco-friendly sandblasting
All that is required for cleaning with the eco-friendly Tornado ACS cleaning machine is a normal power connection and a blasting agent or granulate that meets the requirements. The choice of the right blasting agent depends primarily on the type of surface to be cleaned.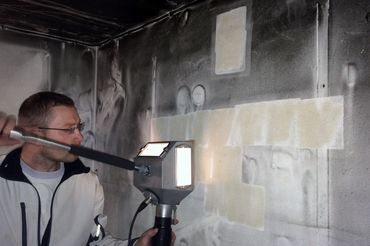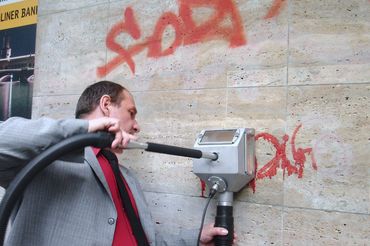 eco-friendly sandblasting - a new dimension
For brick, natural stone, and concrete, jet glass and asilite are most suitable, whereas for delicate surfaces, such as polished granite or glazed tiles, a special granulate of nutshell is used. An overview of the different blasting media and their application areas can be found here: blast media (granulate)
Convince yourself of the advanteges of the innovative cleaning methods of systeco. You cannot only clean house facades and terraced floors, but also stripping, creating of photo engravings and fire damage restoration can be done.
During the sandblasting process, the blasting agent is pressurized to the surface to be treated and the granulate is drawn out of the storage container by the generated vacuum in the jet hood and accelerated to 400 km / h in the jet lance. The high impact speed of the blast media dissipates dirt and paint quickly from the surface. This minimal-abrasive vacuum blast is therefore also referred to as a vacuum or soft-blast process.
Environmentally friendly mobile sandblasting with vacuum blasting technology
Are you looking for an eco-friendly cleaning method that is sustainable and climate-neutral? Then mobile sandblasting with the patented vacuum blasting technology from systeco is just right for you! Thanks to this innovative technology, even stubborn dirt can be removed without the need for high pressure, water, or chemicals.
But how does vacuum blasting work? Unlike conventional sandblasting, a vacuum is created that sucks in the blasting media such as sand or granulate. Through this process, not only is effective cleaning achieved, but optimal dust binding is also ensured. This allows you to forego the use of chemicals while still achieving a thorough cleaning.
Another advantage of mobile sandblasting with vacuum technology is its high flexibility. The system is mobile and can therefore be used on-site without the need for an external water source. This not only saves time but also resources and actively contributes to environmental conservation.
Finally, systeco's vacuum blasting is also a highlight in terms of sustainability. The system operates in a climate-neutral manner and leaves no harmful residues. This allows you to not only carry out your cleaning tasks effectively and quickly but also make a valuable contribution to environmental protection.
Overall, mobile sandblasting with the patented vacuum blasting technology from systeco is an eco-friendly and sustainable solution for effectively cleaning various surfaces. If you too want to clean in an environmentally conscious manner, you should definitely try out this innovative technology!