The graffiti removal machine Tornado ACS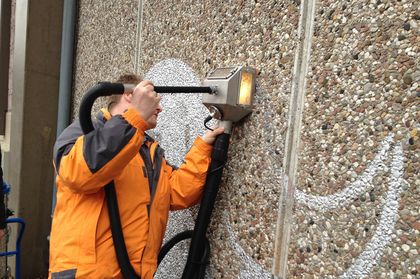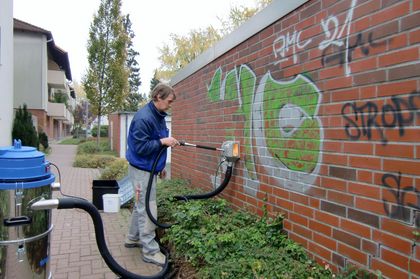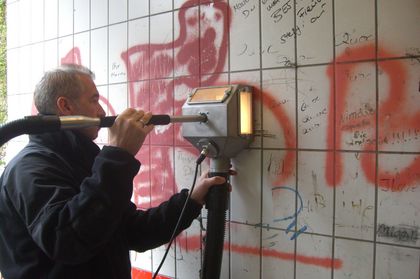 You want to remove graffiti from a house facade ? Forget about pressure washers or chemical detergents. Try the graffiti removal machine Tornado ACS of systeco, the optimal graffiti removal machine which can remove graffiti completely from brick, concrete, plaster, natural stone, plastic and EIFS-facades as well as of all mineral surfaces. Even the most stubborn impurities can easily be removed. Any facade will look like new again. That is not everything.
While pressure washers and chemicals dissolve the graffiti paint, leave stains and pollute the environment, the vacuum blasting technique assures user safety and the ecological disposal of remains.
Graffiti easily removed from all facades!
The graffiti removal machine is easy to operate as no experience is required and no safety measures are necessary. When removing graffiti from building facades on busy roads barriers and delimitations are not required. Besides, the graffiti removal machine, Tornado ACS, also impresses because of its low noise level and also because of the gentleness of its vacuum blasting technology.
Graffities and all other impurities are removed layer by layer, without damaging the surface or the grouts. All residue ablation land immediately in the filter system of the cleaning machine and can be disposed comfortable and environmentally friendly afterwards.
The graffiti removal machine, Tornado ACS, works therefore great on facades and it is even environmentally friendly.
Try it yourself! Graffiti removal has never been easier than with the graffiti removal machine of Systeco. Just get in touch with one of our trading partners to convince yourself of the benefits of systeco cleaning equipment, or contact us directly at Systeco cleaning technology.

Systecos machines for graffiti removal -
instead of brush, chemicals and muscle power.
Manual graffiti removal with a brush and chemical detergents has more often little success and on top of it, it contaminates the environment. Where graffiti spray paint on house walls and large area paint daubs have already hardened you are bad advised with a manual cleaning method. In this case the graffiti can only be removed with professional cleaning equipment.

Tornado ACS cleaning technology of systeco instead of pressure washer

When using pressure washers on facade the surface can be damaged quickly and dirt can be distributed throughout the area. The Graffiti removal with Tornado ACS machines from Systeco perform without any problems no matter how long the paint hardened. Whether it is graffiti on brick, natural stone, concrete, plaster, paint or tile shall, with systeco's cleaning machines any facade can be cleaned completely in no time.

Systeco's machines for environmentally friendly facade cleaning

Systeco's machines for graffiti removal can be used anywhere and can operate at minus temperatures. Even prior knowledge and safety measured are not required for the operation. During work on busy roads no barriers have to be erected because this eco-friendly cleaning technology doesn't allow debris to get to the environment. The closed cycle takes care of collecting dirt in a filter system inside the machines. What is collected is disposed after the cleaning process eco-friendly.
If you are curious, have a look at our website and find out more about the various application fields of the graffiti removal machines Tornado ACS.
Tornado ACS for graffiti removal techniques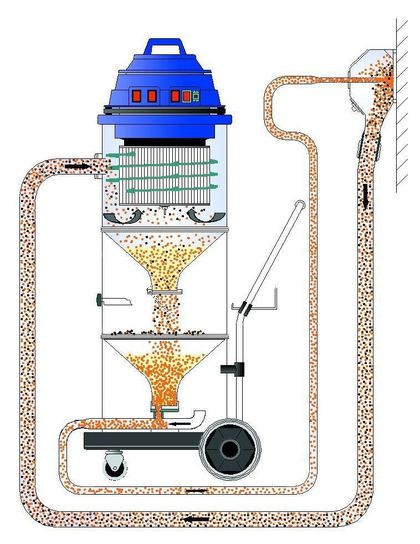 For effective graffiti removal, it is important to use the right techniques. At first, you have to consider from which surface the spray paint must be removed.
The one who is trying to use a pressure washer to remove graffiti from brick or natural stone can get a bad surprise. Because of the hard blast there is always the danger that either the stones surface or the grouts get damaged. You can also use chemical graffiti remover, to clean the paint daubs, which is a heavy burden for the environment.
Tornado ACS, the ultimate graffiti removal techniques
With the graffiti removal technique from Tornado ACS of systeco, graffiti can be completely removed safely and environmentally friendly from all mineral surfaces.
For that neither high pressure, water nor chemicals are necessary, since the cleaning equipment Tornado ACS works with vacuum blasting. It only takes to fill the matching surface blast media in a storage tank of the machine and the graffiti removal process can start.
Graffiti removal techniques were never that easy!
The graffiti removal techniques of systeco can be used anywhere and even operates at minus temperatures. Not even prior knowledge nor special safety measures are necessary for operation the machine.
For the removal of graffiti on building facades in public, barriers and delimitations are unnecessary.
Have a look at our website and find out about the various applications of cleaning machines, Tornado ACS.